INSIDE THE CAMP TENT



Left Phillip O. Williams
The best brother a man ever had.
R I P, bro...

Right Albert D. Williams

Note the 6 inch foam pad
on my cot that I packed in.
YEAH! Warm and confortable.

Eat your heart out, Dwain!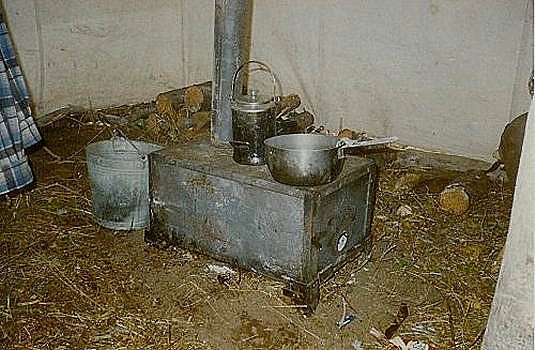 The Camp Stove

It was my duty to feed the fire
during the night. I kept a supply
of firewood in the tent for this purpose.
My friend, Dwain, snored so loudly
that I could not sleep so I would throw
firewood at him to disturb his snoring
then I'd try to get to sleep
before he started snoring again.

Next morning Dwain asked,
"Al, what is all this firewood
doing on my cot?"
Phil Williams field dressing the elk, thinking...

" Hmmm, 2 below zero,
15 miles from the trailhead,
and I still have to
quarter, and pack this animal. "

Looks to me like the fun is over.
Phil Williams back at trailhead, thinking...

" I rode for three hours before daylight, shot, field dressed, quartered, and packed this elk. I walked fifteen miles leading my horse. I've already been up eighteen hours. I'm tired, cold, hungry, and sleepy. I have a two hundred mile drive ahead, and then I must clean, wrap and freeze this thing."

Were it worth the trouble, Pilgrim?

What's that old saying?

Oh, yes, "Been there, done that. "